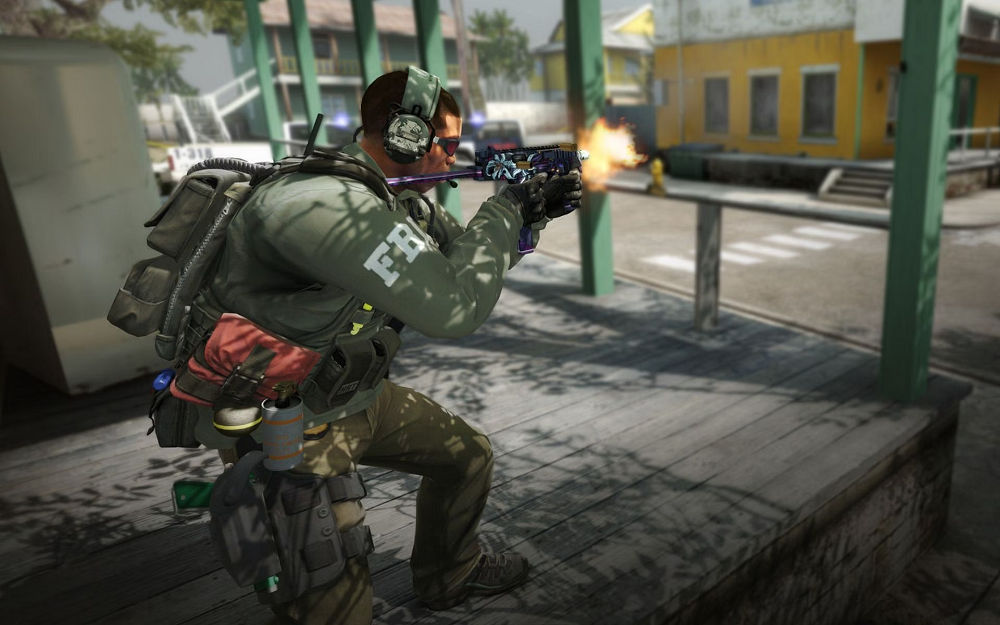 Read Time:
5 Minute, 33 Second
Introduction:
Counter-Strike: Global Offensive, or CS:GO for short, is a first-person shooter video game that has taken the world by storm. Since its release in 2012, it has become one of the most popular and influential games in the gaming industry. With millions of players worldwide, CS:GO has not only created a massive gaming community but also influenced popular culture in various ways.
One of the significant impacts of CS:GO on popular culture is its influence on gaming communities and online culture. The game's popularity has led to the formation of various online communities where players can interact and share their experiences. These communities have created a sense of belonging among players with similar interests and have fostered friendships that transcend geographical boundaries.
Another significant impact is the rise of competitive esports and professional players. CS:GO has become one of the most lucrative esports games globally, with tournaments offering millions in prize money. This has led to professional players earning respectable salaries from playing the game competitively. The success stories from these professional gamers have inspired many young people to pursue careers as esports athletes.
Overall, this essay will explore how CS:GO has influenced popular culture through its impact on gaming communities and online culture as well as its contribution to competitive esports and professional players' rise.
Gaming Communities And Online Culture:
Gaming communities have been an integral part of online culture for decades, and the rise of multiplayer games like CS:GO has only intensified their impact. These communities bring together people from all corners of the world who share a common interest in gaming, and they provide a space for players to connect, compete, and collaborate with one another. The culture that emerges from these communities is unique in its own right, with its own set of norms, values, and language. For instance, gamers often use slang terms like "GG" (good game) or "AFK" (away from keyboard) to communicate with one another. Moreover, gaming communities have evolved into social networks that extend beyond the game itself. Players can form clans or guilds within a game or join groups on social media platforms like Discord or Facebook to discuss strategy or just hang out.
The influence of gaming communities on popular culture cannot be overstated. They have contributed to the rise of esports as a legitimate form of competition and entertainment. Professional gamers can now earn six-figure salaries by competing in tournaments sponsored by major companies like Intel and Red Bull. These events are broadcast live on streaming platforms like Twitch.tv where viewers can watch their favorite players compete against one another.
Gaming communities have also had an impact on fashion and style trends. Gamers often wear merchandise featuring their favorite games or teams as a way to show off their fandom. Streetwear brands like Supreme have even collaborated with video game companies to release limited edition apparel lines.
Gaming communities play an important role in shaping online culture and influencing popular culture at large. They provide a space for people to connect over shared interests while also contributing to the growth of new industries like esports and fashion. As CS:GO continues to dominate the gaming world, it will undoubtedly continue to shape our cultural landscape for years to come.
Competitive Esports And Professional Players:
The world of competitive esports has exploded in recent years, and Counter-Strike: Global Offensive (CS:GO) is at the forefront. Professional players have become household names, with millions of fans watching their every move on streaming platforms like Twitch. These players devote countless hours to perfecting their craft, honing their skills to compete at the highest level. The intense competition and high stakes of professional CS:GO tournaments have created a new kind of athlete – one who relies on quick reflexes, strategy, and teamwork rather than physical strength or endurance.
Some of the most successful CS:GO players have become cultural icons in their own right. They are not just admired for their skill in the game; they are also respected for their dedication and work ethic. Fans look up to these players as role models and aspire to follow in their footsteps. Professional player Oleksandr "s1mple" Kostyliev, for example, has amassed a massive following due to his incredible performances on the virtual battlefield. He is known for his aggressive playstyle and lightning-fast reflexes – traits that have earned him numerous accolades over the years.
But it's not just individual players who are making waves in the world of esports; entire teams are also gaining popularity among fans around the globe. Teams like Astralis, Fnatic, and Natus Vincere have all made names for themselves by dominating tournaments with their expert coordination and strategic gameplay. These teams often develop fanbases that rival those of traditional sports teams – complete with merchandise sales, dedicated social media accounts, and even chants from enthusiastic supporters.
All told, the rise of competitive esports has had a significant impact on popular culture as a whole. It's no longer just about playing video games for fun; now there's an entire industry built around professional gaming that's attracting huge audiences around the globe. As more people discover the excitement and drama of esports competitions like CS:GO, it's likely that we'll see even more players and teams rise to fame in the coming years.
Conclusion:
In conclusion, Cs:go has had a significant impact on popular culture. The game has created gaming communities and online cultures that have transformed the way we interact with video games. The players of Cs:go have formed strong bonds through their shared passion for the game, which has led to the development of online forums and communities where players can connect and discuss strategies.
Additionally, competitive esports have taken center stage in recent years, attracting millions of viewers worldwide. Professional players are now household names, and their skills are highly respected by fans around the world. The rise of esports has also contributed to increased recognition of video games as a legitimate form of entertainment.
Despite its popularity, Cs:go has faced criticism for promoting violence and glorifying gun culture. However, it is important to note that like any other form of entertainment or sport, it is up to individuals to make responsible decisions about how they consume media.
Overall, Cs:go's influence on popular culture cannot be denied. It has brought people together from all walks of life and created a sense of community around shared interests. As technology continues to evolve, it will be interesting to see how this game continues to shape our cultural landscape in the coming years. Learn more at csgobook.com.